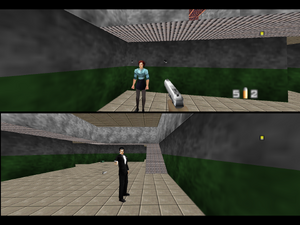 The Library is a multiplayer level in GoldenEye 007. It has secret doors that lift up and a downstairs and upstairs level. The rooms are empty and pretty wide open. There is an area that has glass walls that are capable of breaking.
The recommended Character Model to use in order to camouflage in with the wall color is Naval Officer.
A lot of people used to mod/hack the Library into their own levels. (Most notable ROM-Hack - by bmw)
The walls of the Library are those of the Library section in the Archives.
This level was quite popular, at the time of when GoldenEye 007 was released and after (1997, 2-4 Split-Screen MP.)
8 Respawn Points
16 & 1/2 Weapon Sets
3 Body Armours
Flag Tag Token
Main Theme: None
Background Sound: None
X Track: None
Community content is available under
CC-BY-SA
unless otherwise noted.