The PP7 Special Issue (also known as the PP7 for short) is James Bond's weapon of choice. The player will have this gun in most missions. It is much more accurate compared to a DD44 Dostovei and has average damage. The PP7 can also help with maintaining ammo, due to the high accuracy of the gun and easy aiming system of GoldenEye, as long as consistent headshots are made.
Just like its silenced counterpart, it has a magazine size of seven rounds.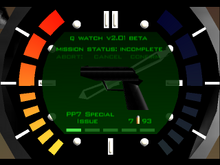 Bunker 1 (Russian Commandant)
During development, this pistol was called the Walther PPK after its real-world counterpart. The name was presumably changed for legal reasons.
Community content is available under
CC-BY-SA
unless otherwise noted.