AlecTrevelyan

Name:

Alec Trevelyan

Favorite Bond:

Pierce Brosnan

Favorite Bond Villain:

Alec Trevelyan

Favorite Bond Girl:

Christmas Jones
Hey, I'm Alec Trevelyan, the best GoldenEye villian. Trevelyan is my favorite Bond villian. I've played GoldenEye since I was 4, and watched my dad play it.
I just recently got a Gameshark and want to download new levels and that stuff.
I am also an active member on the GTA Wiki.
Let me also bring to point that all the videos I added are copyrights to their creators. I refuse to take credit for creating them as the respected owners names are included in the video under the title.
Also, a fan of rock music who likes AC/DC, Krokus, Ratt, Tesla, ect. is a fan of mine.
When I was young, and I played, or my Dad played GoldenEye, some things had effects on me. Such as these:
The Surface (1) alarm scared me. I thought it was a giant robot.
I always thought the Frigate would hit an iceburg and sink.
I used to be afraid of the Bunker (2) song.
The sound of the magnet also scared me.
When the watch song came on, and if all the lights were off, I'd get scared.
To see beta things for beta GoldenEye, check out "http://www.betagoldeneye.com/". Nice place to see what the game may have been.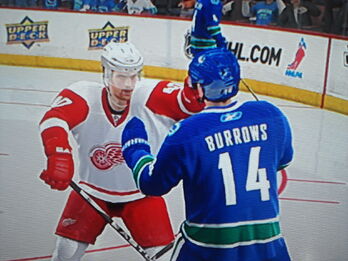 Ourumov's Message to the Vancouver Canucks @ Game 7
[
edit
|
edit source
]
thumb|right|300px|General Ourumov at his best.
Whoa, before GoldenEye Reloaded came out, I came here and worked wonders for this Wiki. I made the pages for the locations, added the music and gave detailed insite on them. I kept this place alive for about a year or two before Reloaded came out, I got no recognition for holding the supports to the shaky house. I requested Adminship for my hard work and only one guy was generous enough to reply to me. Unfortunatley, he had no Adminship abilities. WTF? I've been waiting for a response, and nothing. I single-handedly made this place. Go look at N64's GoldenEye and I will have my name at every place. Don't believe me? Check my contributions. Not mad at anyone, just frusterated that I got no recognition for holding the beams to the shaky house, and now Reloaded fans are here making everything. Just like Alec Trevelyan, I will be an unsung hero.
Happy Anniversary to me for going on here for two years, today. October 2, 2010 was the first time I came here and edited the Surface 1 page.
Community content is available under
CC-BY-SA
unless otherwise noted.